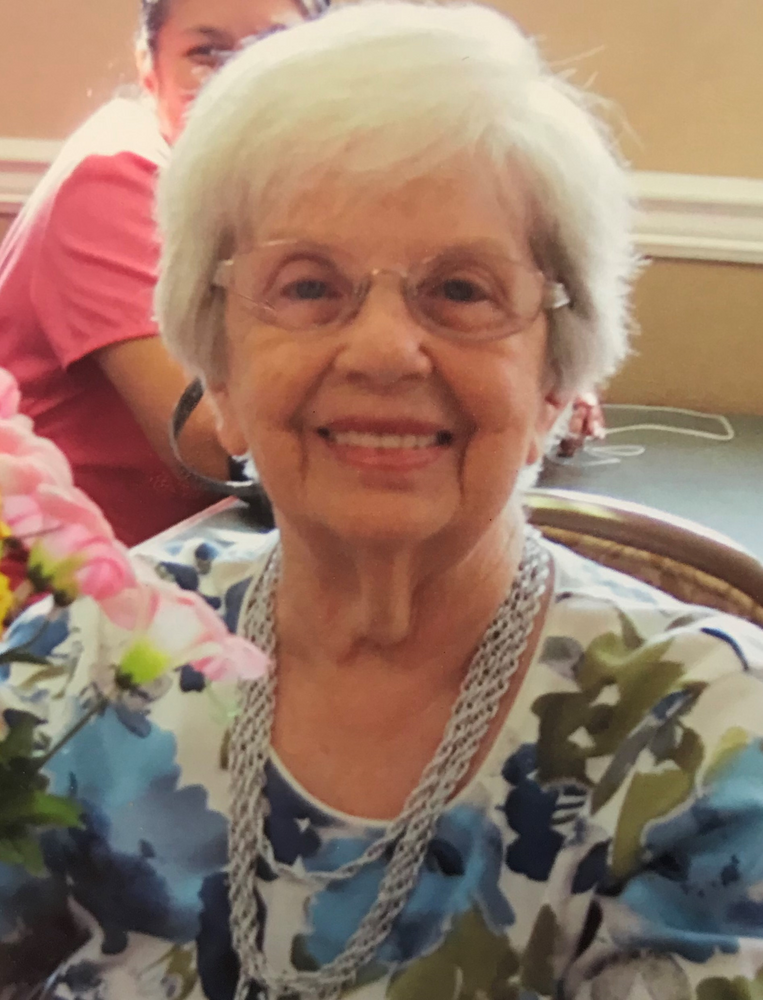 Obituary of Helen J. Dolch
Please share a memory of Helen to include in a keepsake book for family and friends.
Helen J. Dolch, of Boonton, formerly of Irvington and Union, passed away on Thursday, January 27, 2022. She was 88.
A daughter of Andrew & Mary Tomko, Helen was born and raised in Newark, NJ, She came from a family of four sisters and one brother. She graduated from East Side High School. Helen met and married the love of her life, Theodore J. Dolch and they began their family.
Helen and her family moved to Irvington, then Union. She was the Administrative Assistant to the Supervisor at the Irvington Board of Education for many years.
Helen enjoyed singing and music and loved to draw flowers and paint using pastels, but her family was always her priority.
She loved people, especially children. Helen would always take the time to smile, wave and talk to children whenever she saw them. Volunteer could be her middle name as she so treasured helping others. When she retired, she volunteered as an assistant at the Union Library, reading to children. Helen also volunteered at South Mountain Healthcare & Rehab in Union. She was a member of St. Michael's Church in Union.
Helen was very creative. After learning calligraphy, she offered her services to write cards and invitations for friends. She also wrote a child's short story: Amelia Ann and the Green Umbrella (see below).
She loved gardening and her favorite flowers included pansies and lilacs. Helen lived her life with great enthusiasm and lots of love. St. Jude was her favorite saint and a statue of him always graced the kitchen window. She also had a special place in her heart for all animals. She adopted a dog and two of the four kittens that were born under her porch in Irvington.
Helen had a smile for everyone and was always willing to lend a hand to someone in need. It was her purpose to bring light and joy into the lives of others. As one saying goes: "She has a smile for every friend and a friend for every smile" and that would describe her - heart and soul.
Predeceased by her beloved husband, Theodore J. Dolch, Sr. and her daughter-in-law, Elizabeth; Helen is survived by her son, Theodore J. Dolch, Jr.; her daughter, Jean Hendricks and her husband, Kevin; her grandchildren, Christopher, Michael, and Carley; and her sister, Eleanor Williams and her husband, Russell.
A Celebration of Helen's wonderful life will be held at Codey & Mackey Funeral Home of Boonton on Thursday, February 3rd from 9:00 – 11:00am with a prayer service at 10:30am. Interment will follow at Hollywood Cemetery in Union.
In lieu of flowers, the family would appreciate donations to the National Shrine of St. Jude or to your local animal shelter.
AMELIA ANN AND THE GREEN UMBRELLA By Helen Dolch
ONCE upon a time there was a little girl by the name of Amelia Ann. She was a happy little person with dark hair and big brown eyes. More than anything else, she loved to go to parties. One day she got an invitation to a birthday party from one of her friends.
She started planning what dress she was going to wear and how she wanted her hair to be fixed. Amelia Ann and her Mom went shopping and found a swell present for her friend and wrapped it very nicely.
On the day of the party she was so excited. She put on her pretty pink dress, took the present and was ready to go. As she left the house, she thought "I'd better not forget my green umbrella." She always took it to parties.
When she arrived at the party, she put the umbrella in the copper stand by the door. Every once in a while she would pick up a goody, run to the umbrella stand and drop the goody into her umbrella. Lollypops, candy kisses, gum drops, cookies and even a great big piece of the birthday cake – all of it went into her green umbrella.
Everyone was having a great time at the party, playing games, singing songs and doing all the things kids love to do at a party – be happy.
Well, time passed too quickly and soon it was time to leave. Everyone said so long and thank you.
As they started to walk to the cars where their parents waited for them, a thunder storm broke out and rain came down in buckets. Amelia Ann started running to her car because she was getting really wet.
Without thinking she took the umbrella off her arm, turned it around and opened it up over her head! A shower of candy, bubble gum, cookies, tootsie rolls, everything fell from the umbrella and landed in a giant puddle at her feet – becoming soaking wet.
Amelia Ann stood looking at all the wet candy and felt terrible. Her friends saw this and began to point at the candy floating down the street. They laughed and laughed. Everything was ruined. What a way to end a day! She made up her mind then and there she would no longer take her green umbrella to parties.
~THE END~
Share Your Memory of
Helen
107 Essex Avenue
Boonton, NJ 07005
Richard J. Codey, Owner/Manager, NJ Lic. #3175
Phone: (973)-334-5252