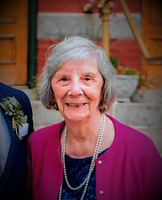 Nancy Mae Lewis Sheridan
Nancy Mae Lewis Sheridan, 97, of Parsippany, NJ passed away on Sunday, January 15, 2023 at Morristown Medical Center.
Nancy was born in Wilkes-Barre, PA to William and Mildred Lewis. She attended Meyers High School, graduating in 1942. Nancy dedicated her professional years to the Parsippany School system, first as a substitute teacher in 1968 then as Secretary for the Superintendent, until her retirement in 1997. Nancy was a voracious reader, spending her days deep in novels, many of which she realized she had already read as she turned their final pages.
Nancy is survived by her daughter, Ann Sheridan; son Kevin and his wife, Roberta; grandchildren, Johnathan, Conlin, Michael, Taylor, Andrew and Kiley; and great-grandchildren, Josie and Edward (Ned). Nancy was predeceased by her husband, Thomas and son, Glenn.
A viewing will be held at Codey & Mackey Funeral Home, 107 Essex Ave, Boonton NJ, on Saturday January 21 between 3-5pm. In lieu of flowers, donations may be made to The Carol G. Simon Cancer Center at Morristown Medical Center.
The family wishes to extend their gratitude to Morristown Medical Center, its doctors, nurses and staff, who provided Nancy with compassionate care throughout her life.