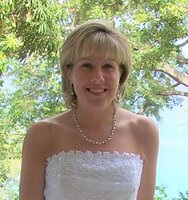 Kristen Beth Westenberger
Kristen Beth (Hubert) Westenberger, 48, passed away on Thursday, October 20, 2022, after a valiant battle with cancer.
Kristen was born in October 1974 to James and Lisa (Feigen) Hubert. She grew up in Towaco, NJ, graduating from Montville High School. She earned her business degree at William Patterson University. She went on to attend the County College of Morris Nursing Program, graduating in 2005. Kristen worked at various hospitals, including Trinitas Hospital in Elizabeth NJ; The New England Center for Children in Southborough, MA; The Summit Medical Group in Berkeley Heights, NJ; and Highland Medical Group in Honesdale, PA.
Kristen met her future husband, Darren Westenberger, while attending William Paterson University and they married in 2007. They lived in Boonton and Chatham before deciding to move to Honesdale, PA.
Kristen was a dedicated nurse who devoted so much to her patients - she especially loved working with children when they came into the medical centers. Kristen also loved to go on adventures with her husband, Darren. These trips included cruises, camping, craft shows, trips to the New Jersey Shore and weekends to the NY wine country. Kristen enjoyed all these activities, but the one thing she cherished above all else was spending time with her nieces and nephews.
Kristen is survived by her beloved husband, Darren; her parents, Jim & Lisa; and her brother, Eric and her sister, Jaime.
Please join her family on Saturday, October 29th from 2:00 – 6:00pm for a Memorial Visitation with a service at 4:00pm at Codey & Mackey Funeral Home in Boonton. In lieu of flowers, donations in her honor to the Leukemia & Lymphoma Society would be appreciated.