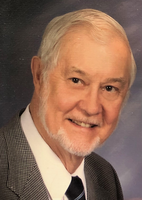 Lawrence Stilo "Larry" Larsen
Lawrence (Larry) Larsen, of Mountain Lakes, NJ passed away on September 12, 2022, at the age of 89.
Larry was born in Philadelphia, PA to Lawrence and Clara Larsen in April 1933. He was the oldest of four sons. In his youth, he helped his family by doing odd jobs alongside members of the local Mennonite community. It was this connection that fostered his love of music and German language.
After graduating from Deep Run Valley High School in Blooming Glen, PA, Larry worked at various jobs and completed alternate service before enrolling at Ball State University in Muncie, IN. He graduated with a B.A. in French and German. A Fulbright Scholarship provided Larry with an opportunity to further his study of German at the University of Freiburg in Breisgau, Germany. In 1971, Larry earned his Ph.D. in Germanic studies at the University of Texas at Austin.
Larry began his teaching career at Knox College, Galesburg, IL in 1964, where he met his colleague and future wife, Nancy Martin. In 1969, Larry joined the Modern Languages, Literatures, and Linguistics Department at the University of Oklahoma and taught various courses in German and Baroque literature. He was instrumental in teaching correct German pronunciation to music students and, after retiring from OU in 2002, he continued teaching "German for Reading" to students until 2012. Larry's research emphasized the study of emblem books.
In retirement, Larry volunteered in the Discovery Room at the Sam Noble Oklahoma Museum of Natural History, taught English as a second language, and looked forward to weekly lunches with the ROMEOs (Retired Old Men Eating Out): Dragan Milivojevic, Mervin Barnes, and John Dunn.
Many people knew Larry best as an accomplished singer and he was a member of several choirs at various times over the years, including at First Presbyterian, McFarlin United Methodist, St John's Episcopal, and St Michael's Episcopal churches in Norman and the Canterbury Choir in Oklahoma City. He was a charter member of the Cimarron Opera (originally called the Church Circuit Opera Company). In his younger years, Larry sang tenor as the romantic lead, Nanki-Poo, in Gilbert and Sullivan's Mikado at Knox College. In 1997, he played Captain Corcoran in OU's summer production of HMS Pinafore. Larry was often asked to sing at weddings and funerals.
In 2016, Larry and Nancy moved from Norman, OK to Mountain Lakes, NJ to be closer to their daughter and her family. Larry's last years were spent enjoying the antics of his young grandsons. Nothing brought him more joy than to be a husband, father, and grandfather.
Survivors include his wife Nancy, daughter Kristin, son in-law Larry Kahn, grandsons Jason, Zachary, and Nicholas (who lovingly referred to him as "DooDad"); his brother Kenneth Lewis and wife Bonnie of Ellijay, GA; and several beloved nephews, nieces, and friends. His parents, brothers John and Lee Larsen, and grandson Jacob Kahn predeceased him.
A Celebration of Life will be held on Saturday, October 29, 2022 at the Denville Community Church, 190 Diamond Spring Rd, Denville, NJ at 2:00PM. Donations may be made to the Leukemia & Lymphoma Society or to the charity of one's choice.