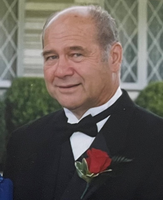 Joseph Stephen Barlak
Joseph S. Barlak, 78, of Boonton, NJ passed away unexpectedly on Wednesday, August 10, 2022 following a brief illness.
A lifelong Boontonite, Joseph was born in Boonton in September 1943 to Joseph J. and Katherine (Marhevka) Barlak and graduated from Boonton High School. He went on to serve in the U.S. Army during the Vietnam War. Joseph worked for many years as a draftsman at Picatinny Arsenal in Wharton.
Joseph met his future wife, Karen Cook, at RFL in Boonton Twp. Together they had their daughter, Keri. Joseph loved to fish and build. In his free time he loved to travel the world.
Joseph was predeceased by his parents. He is survived by his loving wife, Karen; his devoted daughter, Keri and her husband, Matthew and his beloved granddaughters, Christina and Meghan.
Visitation will be Saturday, August 13th from 9:00 – 10:15 am at Codey & Mackey Funeral Home in Boonton. A Mass of Christian Burial will be celebrated at Our Lady of Mt. Carmel at 10:30 am, followed by interment at Sts Cyril & Methodius Cemetery, all in Boonton.
In lieu of flowers, the family would appreciate donations in Joseph's memory to the Boonton Kiwanis First Aid Squad.