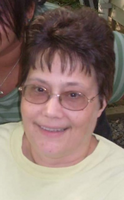 Debra Ann "Debbie" Kapral
Debra A. (Crocetti) Kapral, peacefully passed away with family by her side on Tuesday, July 26, 2022. She was 65.
Born in Denville and raised in Boonton Twp, Debbie lived most of her adult life in Lake Hopatcong before retiring to Pennsylvania. She worked at Morristown Medical Center for 22 years in emergency medicine. Debbie volunteered many years on the Jefferson Township Rescue Squad and served as Captain sacrificing several days at Ground Zero after 9/11/01. Her love of animals being as strong as her love of people, Debbie always made an impact on everyone she met.
Predeceased by her parents, Robert and Bonnie-Gay Crocetti; Debbie leaves behind two loving daughters, Holly Nazzaro of Franklin, NJ and Maggie William of Mount Bethel, PA; sons-in-law, David Nazzaro and Devon Jeffreys; and her grandson, Peter George Nazzaro, the latest love of her life; and her two siblings, brother Robert E. Crocetti, Jr. and wife, Dawn of Rockaway Twp and sister Amy Engler and husband, Christopher of Mount Arlington. Debbie found solace in knowing she would be reunited with her grandson, Lucas Robert Nazzaro in Heaven.
In lieu of flowers, please donate to a charity near and dear to your heart. A celebration of Debbie's life will be held Sunday, August 7th from 2-6pm at Moose Lodge 541, 21 Sammis Ave, Dover, NJ.