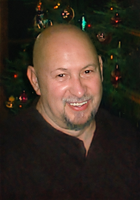 Emanuel "Manny" Marsico
Emanuel "Manny" Marsico Jr., 77, of Lincoln Park, NJ, passed away peacefully on March 8, 2022, surrounded by his loving family.
Born in Brooklyn, NY to Emanuel and Angelina Marsico in 1944, Manny was raised in Lincoln Park, NJ in the house his father built. Shortly after graduating from Boonton High School, in 1965 Manny enlisted in the United States Army. He was stationed in Olathe, Kansas where he served a two-year term during the Vietnam War.
In 1985, Manny married his "perfect match," Annabel Aldredge, and their two families became one. Residing in Manny's childhood home, together they raised six children from previous marriages.
For several years, Manny was employed at Singer Kearfott and later in life worked at Advance Auto Parts. Regardless of his occupation, he was well-loved by everyone with whom he worked and came into contact.
With the ability to "fix anything", Manny was very handy and loved spending time working on his cars including his beloved Mustang. Passionate about the outdoors, he loved camping and would often spend his free time fishing.
Manny was predeceased by his parents, Emanuel and Angelina; and his brothers, Ralph and Carmine. He is survived by his wife, Annabel; his children, Angelina Marsico and her husband Matt Rulevich; Michael Marsico and his wife Jodi; Cindi Love; Teri Cummings and her husband Jim; Danielle Love and Carey Love; and seven grandchildren, Jessica, Samantha, and Jimmy Cummings; Ian and Kaitlin Marsico; and Rees and Beck Rulevich.
Visitation will be from 3:00 to 6:00pm on March 11, 2022, at Codey & Mackey Funeral Home, 107 Essex Avenue, Boonton, NJ 07005. Burial will be private. In lieu of flowers, donations in his memory may be made to Covenant House New Jersey (CHNJ), an organization that provides housing and supportive services to youth facing homelessness.