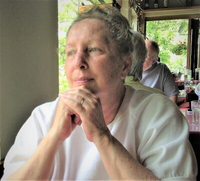 Lisa Ann Alden
Lisa Ann (Dezan) Alden died February 1, 2022 at home after a long struggle with dementia and related physical issues. She was 68.
Born on September 12, 1953 in Somerville, she grew up on farms in Somerville and Hillsborough and graduated from Somerville High School.
Married to her first husband, Robert Alden, at age 18, they resided on a historic farm and orchard property in Clinton while raising three children. Following their divorce, Lisa moved to Marshall's Creek, Pa. and later married William Westhoven on New Year's Eve 1999. The celebration of their "millennium wedding" lasted into the next century. They resided in the Lake Intervale section of Parsippany.
Lisa worked as a home health aide and CNA for many years before her condition forced her to retire in 2011.
She enjoyed gardening, cooking, sewing, needlework and craftwork, folk music, theater and the Jersey Shore. Mostly, she enjoyed caring for and comforting the young and old who she graced with a gentle and loving hand.
She is survived by her husband, William, a longtime reporter and editor for the Daily Record; her son, Cyle (Courtney) and daughters Sarah and Laura Koval (Rick); grandsons Christopher, Cooper, Milo and Liam, with another grandson "on the way."
No immediate viewing or service is planned. A memorial event will be planned for the spring or summer when travel is hopefully less restricted by COVID.