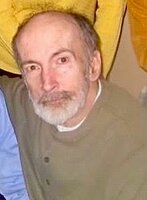 Michael J. Shanahan
Michael Joseph Shanahan, 71, passed away quietly on December 2, 2021.
Michael was born in May 1950 to the late Gregory and Lillian (O'Brien) Shanahan. He and his five siblings grew up in Clifton, NJ.

Michael is survived by his two sisters Barbara Hanlon and Patricia Goodman; brother-in-law Thomas Barber; sisters-in-law Elizabeth Shanahan, and Rhonda Shanahan Moore. He was predeceased by his brothers Gregory and Patrick; and his sister Sharon Barber.

Michael is also survived by a host of nieces and nephews who loved him very much and affectionately knew him as "Uncle Mike". He will be missed dearly by them all.
Michael loved his family deeply. He had a sweet tooth, especially for cheesecake, and always a touch of mischief in his eyes. Michael was an avid fisherman and voracious reader of anything, although he loved the NY Post. Michael was a Mets and Giants fan. While he had his fair share of challenges in life, you would never know it from his upbeat and positive attitude; he was always happy and in the moment.
Michael had a deep and meaningful relationship with all people and will be remembered by his friends as the "Mayor".
Rest In Peace; we love you!
Services were private.