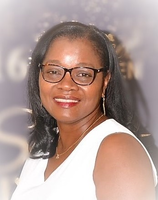 Vivienne Delores Black
Vivienne Delores Black, 57, of Rockaway, NJ, passed away after an illness on February 18, 2021.
Vivienne was born in Kingston, Jamaica to Charles Levy and Louise Duffus. After high school, she attended cosmetology school. Vivienne was a business owner, running her own hair salon – Viv's House of Beauty in Parsippany – for 25 years. She moved her business to her home 2 years ago.
Vivienne married her beloved husband, Oscar D. Black, Sr. and they started their family.
Vivienne was a devout member of the Bethel A.M.E. Church of Boonton, teaching Sunday School and giving generous amounts of her time to the Missionary Committee.
When she wasn't spreading her love to her grandchildren, Vivienne enjoyed Jeopardy and Wheel of Fortune, solving crossword puzzles, reading and cooking delicious meals for her family.
Predeceased by her parents, Vivienne is survived by her husband, Oscar, Sr.; her daughter, Cariesha, her sons, Oscar, Jr. and Corey; her daughter-in-law, Lola; her stepsons, Carey and Odaine; her grandchildren, Camren, Liam, Abigail and Shoshannah; her sisters, Meloney Douglas, Arlene D. Levy and Candy Levy; her brothers, Clive Binns, Calder Pitter, John Foster, Cornel L. Levy and Laughton Levy; her in-laws, aunts, cousins and friends.
Please join the family for a walkthrough visitation on Thursday, March 4, 2021 from 4:00 to 7:00 PM at Codey & Mackey Funeral Home, 107 Essex Ave, Boonton. A church service will be held at Bethel Church of Morristown, 59 Spring St., Morristown on Friday, March 5th at 10:00 AM and burial will follow at Greenwood Cemetery, Washington St., Boonton.
You may also join the family via live streaming at the church service. Go to http://www.bethelmorristown.org/ and at the top of the page, click the blue button "Join Us Live - Zoom".