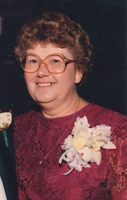 Gladys May Smith
Gladys May Smith passed away at home in Montville, NJ on Monday, June 8, 2020, living to 79 years of age.
She was born to Raymond and Gladys Sharp at Dover General Hospital, Dover, NJ on September 9, 1940. Gladys was co-owner of NJ Industrial Sewing Machine Co. of Boonton, a member of the Montville Fire Department Ladies Auxiliary and loved bowling.
Gladys is survived by her husband, Floyd Smith, Jr. after 62 years of marriage; a son, Thomas A. Smith and Toni Smith, the parents of two granddaughters, Kayla and Chelsea Smith of Mine Hill, NJ; a daughter, Tammy Lee Yaworsky and Lloyd Yaworsky, parents of two granddaughters, Taylor Lee and Cheyenne Yaworsky of Brooksville, FL; and a daughter Caroline Smith and Sharon King of Jamestown, PA.
Visitation will be Friday, June 12, 2020 from 6:00pm to 8:00pm, subject to social distancing and capacity limits.