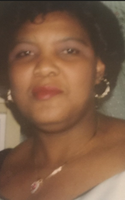 Dorian Bowen
The family of Dorian Bowen, of Boonton, NJ, is sad to announce that their beloved Mom has gone home to the Lord, her homegoing was on Friday, March 20, 2020. She lived for 69 years.
Born in St. Lucy Parish in Barbados to Hartcolt and Nola (McGarry) Bowen, Dorian was one of six children.
Dorian was a housekeeper at St. Clare's Hospital in Denville, NJ for many years. She lived in Boonton where she raised her four children.
Surviving to keep their Mom's memory alive are her children, Lana Grant, Gregory Bowen, Pearlianna Bowen and Kim Bowen; her siblings, Maureen Bowen, Stanton Bowen, Diane Tull, Stephen Bowen and Michael Bowen; also her seven cherished grandchildren.
Private services were held with the family at Greenwood Cemetery in Boonton, NJ with the Rev. Dr. Kimberly Credit presiding. Due to the current crisis in the world the family asks you to pray for them and keep their Mom's memory in your hearts. Take some time to read Psalm 91, Dorian's favorite, when you take time to remember. They ask you to join them when they make plans for a memorial to be announced. The Codey & Mackey Funeral Home of Boonton is caring for the family and the arrangements.