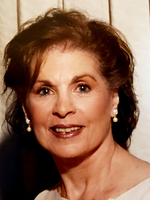 Jeanette M. Conway
Jeanette "Jan" Conway, 90, passed away comfortably with family by her side on Monday February 24, 2020 after a long battle with Alzheimer's.
Jeanette was born in Medway, MA, to the late Nicholas and Ida Santoro and was raised in Franklin MA, she married John "Jack" Conway from Shamokin, PA in 1957. They moved to NYC and eventually settled in Bronxville, NY until Jack's death in 1995. Jeanette is the beloved mother of Kimberly Guerlain and her husband Peter of Boonton, NJ, John Conway Jr and his wife Michelle of Elysburg, PA and her beloved grandchildren, Emilie (Hintz-Guerlain), André & Stefan Guerlain and Chase, Victoria and Trent Conway. Jeanette is also the loving sister of Kenneth Santoro of Attleboro, MA, and preceding her in death brothers Nicholas Santoro and Terrence Santoro.
Jeanette loved to dance, attend Broadway shows and play tennis. She was the proprietor of the Santoro School of Dance in Franklin, MA until she married in 1957. She was a member of the Junior League of Bronxville in the 80's & 90's and started a volunteer dance troupe called Just Dance that provided entertainment at local senior centers, nursing homes and other events.
The family will gather with relatives and friends for a memorial at the Codey & Mackey Funeral Home, 107 Essex Avenue, Boonton, NJ for visitation on Saturday, March 14th from 2-4 pm with interment in Franklin, MA at a later date.
In lieu of flowers, the family would be touched by donations in memory of Jeanette to the St. Jude Children's Hospital at https://www.stjude.org.