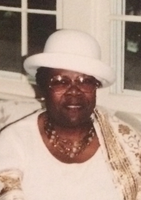 Margaret Sims
Margaret "G-Mommy" Sims (Douglas) of Boonton, NJ, passed away on Saturday, July 7, 2018.
Born in Morristown, NJ, she was daughter of the late Lula Douglas. Margaret was a lifelong resident of Boonton, NJ and a graduate of Boonton High School.
Margaret was a health aid working at the NJ Firemen's Home and private care at home.
She is survived by her beloved daughters, Regina Hill and Joy (Mitch) Slaughter; and cherished grandchildren, Reginald and Ryne Hill, Jay and Nicholas Slaughter; also extended family and friends.
Margaret was predeceased by her husband, Jay R. Sims; son-in-law, Reginald Hill, Sr.; and a grandson, Mitchell Slaughter, III.
The celebration of her life will be held at Bethel AME Church, 140 Plane Street, Boonton, NJ. Friends can visit with the family at church on Wednesday, July 11th from 9-11 am followed by the service at 11:00 am. Interment will follow immediately at Greenwood Cemetery in Boonton. Arrangement in care of the Codey & Mackey Funeral Home of Boonton. To extend condolences or share a memory, please visit codeymackeyfh.com.
In lieu of flowers, donations to the Bethel AME Church or to John Hill School – Stick with Reading, in memory of Mitchell Slaughter, III, would be appreciated.