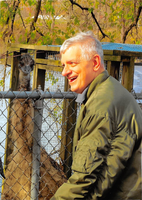 Frank A. Sickinger, II
Frank A. Sickinger, II, 70, of Oak Ridge, NJ, died peacefully after suffering a cardiac arrest while celebrating Christmas with his sister and the community of Salesian Sisters in Haledon, NJ.
Born in Paterson, NJ to Frank and Pearl, he was the brother of Sr. Denise Ann Sickinger, FMA. Frank lived in Paterson and moved to Haledon in the late 1950's. The family moved to Basking Ridge in 1986. After his parents passed away he moved to Sparta in 2000 where he lived in Wallace House, a group home for the Dept. of Persons with Disabilities (DPD) of the Paterson Diocese. Eventually he was transferred to Giuliano House in Oak Ridge.
Frank lived a full life surrounded by loving family and friends, including his Salesian and DPD Families. He worked at the Gruenert Center in Jefferson Twp. for the past 17 years.
In addition to his parents he was predeceased by his Uncle Edwin Canova and his wife, Hilda, Uncle Wilbur Sickinger and his wife, Georgette.
Surviving are his devoted sister, Sr. Denise; a loving uncle, Dr. Raymond Maronpot and his wife, Barbara and their children, Ray, Jr., Bruce and Barbara; cherished cousins, Patricia Bednar and her husband, Bob and their children; Ray Canova and his wife, Bonnie; Wilbur Sickinger, Jr.; Peggy Slavick and her husband, William and their children; also survived by generations of cousins.
Services celebrating Frank's life will be held at St. Joseph Provincial Center, 655 Belmont Avenue, Haledon, NJ 07508 on Thursday, December 28, 2017 with visiting from 9:30 am followed by a Funeral Mass at 11:00 am. The entombment will follow at Calvary Cemetery, Paterson, NJ. Arrangements in care of the Codey & Mackey Funeral Home of Boonton, NJ. To share a memory or condolence, please visit www.codeymackeyfh.com.
In lieu of flowers, donations in memory of Frank to the Salesian Sisters or the DPD, would be deeply appreciated.