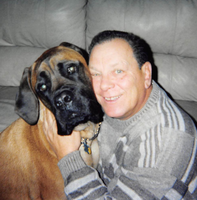 Frank Salvatore Paulozzo
Frank S. Paulozzo, Sr., 64, of Boonton, NJ, passed away on Friday, March 23, 2018.
Born in Morristown, NJ to the late Ralph and Martha Paulozzo, Frank was a longtime resident of Boonton.
Frank owned F. Paulozzo Trucking in Boonton for many years.
He was an avid dog lover and car enthusiast, especially the LEAD East Car Show.
Surviving are his wife of 45 years, Patricia; children, Frank S., Jr., Michelle Kimball and Nicholas J.; siblings, Ralph, Desiree Gilliland and Jeanne Quirk; also six grandchildren and many nieces and nephews.
The family will receive friends at the Codey & Mackey Funeral Home, 107 Essex Avenue, Boonton, NJ on Monday, March 26th from 4-8pm. To share a memory or condolence, please visit www.codeymackeyfh.com.
In lieu of flowers, donations in Frank's memory to an animal rescue of your choice would be appreciated.