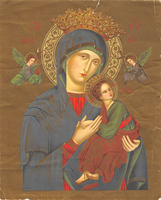 Angela H. Zavras
Angela H. Zavras, 87, of Copiague, NY, passed away after a brief illness on Thursday, March 1, 2018.
Born in Eressos, Greece to Demos and Helen Harris, Angela lived in Stamford, CT and Scottsdale, AZ before moving to NY. Angela expressed her love for her friends and family most often through her delicious Greek cooking. There was always a spot at her table and a glass of wine at the ready.
Surviving are her beloved husband, Nestor; devoted children, Aris and Elena Dulik and her husband, Andrew; cherished grandchildren, Daphne, Lola, Julia, Mimi and Andrew; loving siblings, Emmanuel, Phi, Melanie, Marilyn and Milton; also many nieces, nephews and cousins.
A memorial visitation will be held at the Codey & Mackey Funeral Home, 107 Essex Avenue, Boonton, NJ 07005 on Tuesday, March 6th from 11 am – 1 pm. To extend a condolence or share a memory, please visit www.codeymackeyfh.com.
In lieu of flowers, donations to Alzheimer's of NJ, 425 Eagle Rock Ave., Ste. 203, Roseland, NJ 07068 would be deeply appreciated.