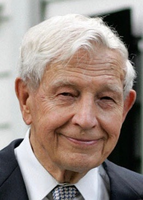 George Robert Leef
George Robert Leef, age 96, of Mountain Lakes, NJ, passed away at home after a brief illness on December 16, 2017.
George, or Bob as he was known, was born on May 26, 1921 in Minneapolis, Minnesota to John Harry and Tynne Marie Leef.
After graduating with a BSEE degree from The University of Minnesota in 1943, Bob moved to NJ to work for International Telephone and Telegraph (ITT), where he worked for the next 30 years, rising to Senior Member of the Technical Staff in Microelectronics Engineering.
After retiring from ITT, Bob spent 17 years as the Technical Director for the Plastoid Corporation in Hamburg, NJ.
While attending Stevens Institute of Technology for his MSEE, Bob met the love of his life, Audrey Vincentz, in a vector analysis class, and they were married on June 21, 1947. Bob and Audrey celebrated their 70th wedding anniversary this past June. They raised four children, Eric (deceased), Janet, Mark and Carol.
Bob was an avid skier, enjoying the slopes through his 89th year. Bob and Audrey skied all over the world, and each of his children were put on skis at age 3. Bob's skiing style was to put his skis together at the top of the mountain and shoosh down it, believing the best way to navigate ice was to race over it quickly. Bob was also known to never wear a hat, no matter how frigid the weather, and this became the stuff of legend where the family skied at Belleayre Mountain, NY.
Bob and his wife were devoted members of church choirs for almost all of their seventy married years, and in addition to singing Bob played the piano and violin. Bob might say he played the fiddle more than serious violin, and his children fondly remember his technique for putting them to bed: getting out his violin and allowing them to dance like crazy while he played Turkey in the Straw, and The Irish Washer Woman's Jig until they dropped from exhaustion!
Everyone who knew Bob loved his dry sense of humor and brilliant wit. Bob could casually speak just a few words and have everyone in stitches of laughter! But if there was one thing that defined Bob Leef and his life it was the following:
His young daughter once asked him if he believed in heaven, and he responded that he felt heaven was the feeling you leave in other people while you are still on this earth. Bob lived that by example every day of his life, and gave the gift of grace, peace, respect and appreciation to everyone he encountered.
Bob will be deeply missed by his wife of 70 years, Audrey Leef, daughter-in-law Gail Leef, daughter and son- in -law Janet and Rick Sherlund, son Mark Leef and daughter Carol Leef; and by his grandchildren Eric Leef, Jr, Joel Leef, William Sherlund, Benjamin Sherlund, Samantha Leef Schade, Cheyenne Leef, Hunter Leef, Amie McAllister, Katie Leef Grieg, and Christopher Grieg, as well as great-grandchildren Aidan Bump and Phoenix Leef.
A memorial service will be held on Thursday, December 21, 2017 at The Community Church, 48 Briarcliff Road, Mt. Lakes, NJ beginning at 11 a.m. with a luncheon reception to follow for all guests.