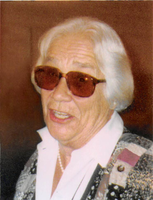 Jean Cole Gascoigne
Jean Cole Gascoigne, 87, of Boonton Twp., New Jersey died on November 8, 2017 surrounded by her family.
Jean was born in Brooklyn, New York. She was the daughter of Brig. General John Tupper Cole and Janet MacKay Cole.
Born into a military family, Jean's father, grandfather and great grandfather were graduates of West Point. During her life as an army brat, Jean lived in such places as Fort Riley and Fort Leavenworth in Kansas, and Fort Bliss in Texas, as well as Thailand where her father was a U.S. military advisor.
Growing up Jean was surrounded by horses, and one of her favorite things to do as a young girl was to ride. Her father was a cavalry officer and captain of the US Equestrian team at the 1956 Olympics and her mother won many medals at the National Horse Show in New York. Jean graduated from the St. Mary's School in Garden City, New York in 1947 and from Vassar College in 1951. In the fall of 1951 she attended the University of Virginia Law School where she met Robert W. Gascoigne. The two were married in Edgecomb, Maine in June, 1952. Many years later they divorced.
A career real estate agent, Jean also was an accomplished golfer. Of note, she was a nine -time club champion at her beloved Rockaway River Country Club in Denville. In her spare time, Jean was a longtime volunteer at The Mental Health Association of Morris County and she was very active in both the New Jersey State Golf Association and the Women's Metropolitan Golf Association. One of the annual Women's tournaments sponsored by the NJSGA is named in her honor.
Jean had one brother who predeceased her, Frederick MacKay Cole, formerly of McLean, Virginia.
Jean is survived by her ex-husband, Robert W. Gascoigne, her eldest son, William and his wife Ellen and their two adult children, Jacqueline and Pierce, and younger son Robert "Gup" and his wife Louise.
A memorial gathering will be held at the Codey & Mackey Funeral Home, 107 Essex Avenue, Boonton, NJ on Monday, November 13, 2017 from 2- 4 & 7-9 PM. A private celebration of Jean's life will be held at a time yet to be scheduled at which family and friends will be most welcome. To share a condolence or memory, please visit www.codeymackeyfh.com.
In lieu of flowers, please make donations in her memory to the Mental Health Association of Essex & Morris Counties, 33 Fullerton Ave., Montclair, NJ 07042.