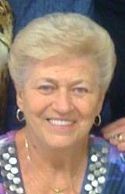 Geraldine Offt
Geraldine M. Offt "Mema" 79 of Boonton passed away peacefully on October 13, 2017 at St. Clare's Hospital in Denville.
Gerri was born in Paterson, NJ and was a lifelong resident of Boonton where she raised her family. Gerri was preceded in death by her husband Harry and daughter Patti.
She is survived by her daughters, Sue Zaniewski, Donna Bortel and husband Mark, her grandchildren Jeff Heimbach and wife Christine, Jamie Bortel, Katie Bakstad, Greg Bortel, Jenna Bakstad and Amy Zaniewski, great grandchildren Kylie and Grace Heimbach and many wonderful lifelong friends.
A visitation will be held at the Codey & Mackey Funeral Home, 107 Essex Ave. Boonton on Tuesday October 17, 2017 from 5:00-8:00pm. A funeral mass will be celebrated on Wednesday October 18, 2017 at 10:00 am at Our Lady of Mt. Carmel Church in Boonton and interment will follow at Greenwood Cemetery. Arrangements are entrusted to the Galante Funeral Home in Caldwell (973-226-1801). A celebration of Gerri's life will follow the services at the Boonton Ave. Firehouse.