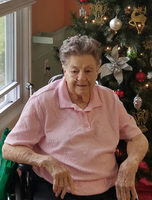 Catherine T. Coughlan
Catherine T. Coughlan, of Boonton, NJ, she gently passed away on Monday, December 5, 2016, she was a remarkable 101 years old.
Born in Brooklyn, NY to William and Jane Flynn (Kavanaugh), Catherine graduated from Morristown High School in 1933. She was a Boonton resident since 1936. Catherine was a homemaker, mother, grandmother and great grandmother.
Mrs. Coughlan was a member of Our Lady of Mt. Carmel Church in Boonton.
She was predeceased by her husband Edward J. Coughlan and her son, Edward J. Coughlan, Jr.. Surviving are her daughter, Jane Lundkvist and her husband, Jerry, of Boonton. Three grandchildren, Scott, Christine and Jeffrey and great grandson, Andrew.
A Memorial Mass will be celebrated at Our Lady of Mt. Carmel R.C. Church, 910 Birch Street, Boonton, NJ on Wednesday, December 14, 2016 at 10:30 AM. Interment will be private at Greenwood Cemetery in Boonton. To share a memory or condolence, please visit www.codeymackeyfh.com.
In lieu of flowers, donations in Catherine's Memory to the NJ Foundation for the Blind, 230 Diamond Spring Rd., Denville, NJ 07834 would be appreciated.